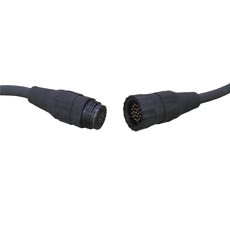 TMB is preparing to announce a new line-up of products at the LDI Show this year called the ProMold.  The first product in this series is the ProMolded 19-Pin Cable Assembly.
The 19-Pin connectors use TMB's ruggedized ProCable and premium ProSeries connectors for break-ins, break-outs and extension cable.
Comprised of internal polypropylene and outer Santoprene molds, ProMolded assemblies are fabricated and guaranteed by TMB. Features, the company says, include improved strain and flex relief, the elimination of broken terminations and pushed pins, as well as broken backshells; greater pull strength; industrial-strength durability, and long-term reliability. The products are moisture- and water resistant, easy to handle, and interface with all conventional 19-pin connectors.
for more information on the ProMolded Series of Cable assemblies, visit TMB's website at www.tmb.com or visit their booth, 1180 at LDI next week.
Share

Comments