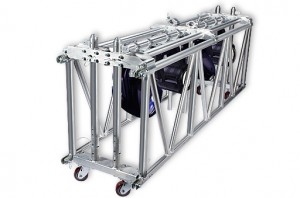 Tomcat Global recently announced a new series of truss to their Swing Wing line up of trussing products called the Edge. The Edge truss is 30″ x 23″ which allows for stacking the truss four wide in a standard truck rather then 3 wide.  the Edge also has rotating spigots thus eliminating the need for corner blocks and one less piece of truss to remember to load into the truck.
With removable ladders, if something happens and a piece of the Edge Truss gets damaged, it is easily replaced with another section of ladder trussing.  This will help cut down truck loads with out the need for carrying extra truss section if a piece gets damaged and unsafe to rig. Additionally, an adjustable internal diagonal slider assembly adjust creating space for larger lighting fixture or for extra lighting positions on the truss.
The Edge Truss utilizes space and offers the ultimate cost savings in almost every aspect of touring, with reducing truck space, shipping weight, reduced hardware, storage and replacement parts. A 96″ stick of the Edge Truss weights just 195 lbs. and can span up to 40′ with a load of 3700 lbs. Standard lengths are: 96″ (3 bay, fits 3 moving heads) & 120" ( 4 bay, fits 4 moving heads). Each stick of the Edge Truss is Equipped with 3 Lamp bars and stacking spigots.
For more information on the Edge Truss from Tomcat Global, visit their US website at www.tomcatglobal.com. If you are attending the LDI Show this year in Orlando, Fl, look for the Edge Truss at the Tomcat booth, 1027.
Share

Comments