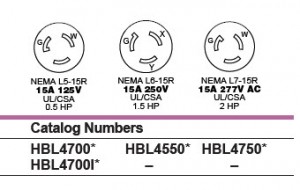 Yesterdays Tuesday Twitter Trivia question was any easy one yes?  Well, before I announce a winner, lets learn a little more about the connector.
I received a bunch of direct messages stating that the image from yesterdays Tuesday Twitter Trivia was the NEMA L6-15 connector.  Yes, that is correct. The L6-15 connector is a 15A, 250V connector that is most often used for 208V power for moving lights. What is the distinguishing trait about the L6-15, the ground pin has a nub that is pointed out, rather then in. Now, let's throw a twist into the mix.
Can you name the 120v NEMA connector, L6-15 with the same in configuration?
If you can, Direct Message me @isquint or email me at info@isquint.net. Answer this question correct, you not only win one of the last remaining SeaChanger 2009 LDI Ducks, but also a little something special from me.
NOW
The winner of yesterdays Tuesday Twitter Trivia question is Stephen J. Moore, (@smoorecrux) from Minneapolis, Minnesota. You can see more of Stephen lighting design work at his website, www.stephenjmoore.com.
Share

Comments