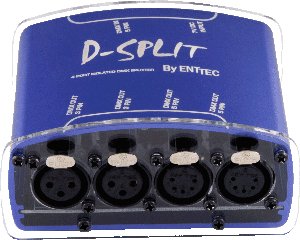 Looks like Enttec will be expanding their product line this year at LDI.  The boys from down under are preparing to announce a new DMX opto-splitter to go with their DMXis controller.  What is nice is that the D-spilter is not limited to just being used with the DMXis.  It is a low cost, 4 way optically isolated splitter that can be used in any lighting system when more "branches" of DMX are required.
I haven't heard about any pricing as of yet or seen it on their website.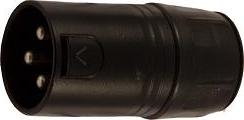 The other new product Enttec is preparing to announce is a "new" 3 or 5 pin DMX terminator.  Why are we excited to see this?  Well, it is a pretty simple device right, take a 5 or 3 pin male DMX connector and solder a 120 ohm resister across pins 2 and 3 right? Well of course! What is neat about Enttec's terminator is that the back side has a closed off cover rather then using the standard sleeve to a cable on the back side.  This is something that is so simple but maybe never thought of before.
The Enttec DMX terminator goes for $11 USD and can be purchased right from their website, www.enttec.com. To see these and other Enttec products, visit their booth, 1181 at the LDI Show.
Share

Comments