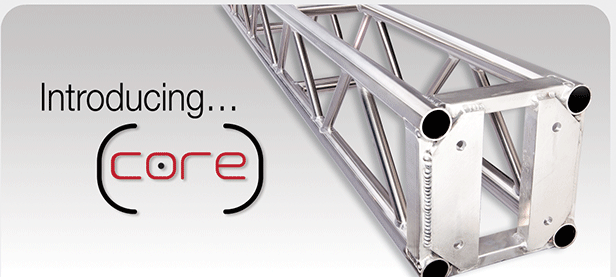 Back during SETC in Birmingham, AL, TomCat showed off their latest line of trussing called CORE.  Just recently, TomCat officially announced the new truss along with prices and available sizes.  TomCat has essentially taken the conventional 12″ x 12″ light duty truss and modified the components to provide a more efficient truss at a more efficient price.
The latest additions to the CORE line up are the CORE18 (12″ x 18″) and CORE12 (12″ x 12″). The new CORE18 is 5lbs. lighter and 25% stronger than conventional light duty 12″ x 18″ truss.  The new CORE18 comes in at 63lbs. per 10′ section with the ability to sustain 1,000lbs total UDL over a 40′ span.  This is an additional 200lbs. capacity over the conventional light duty truss.
There are plans to add 20.5″ x 20.5″ box tuss to the CORE line up in the near future with accessories to complete the CORE line up. All of the CORE lineup of trussing is expected to be available mid summer 2009.
For more information on the TomCat CORE trussing, visit TomCat's website at www.tomcatglobal.com.  For pricing on the CORE trussing, contact your local TomCat Rep.
Share

Comments