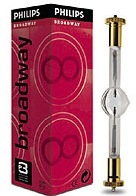 Vari-Lite recently approved the use of the Philips MSR Gold 1510 SA/DE 1500 watt lamp in the VL3500 fixture. There are two versions of the Philips MSR Gold 1510, the SA/DE and the SA/2/DE. Both lamps run 1500 watts each with an average lamp life 750 hours. The difference is that the SA/DE runs a color temperature of 6000k while the SA/2/DE run 7500k. There is also a slight lumen output difference between the two at 140000 for the SA/DE and 126000 for the SA/2/DE.
To learn more about the Philips MSR Gold series of lamps, download the event lighting catalog.
To see which Philips lamp correctly fits your specific Vari-Lite fixture, be sure to download the technical noticed produced by both Philips and Vari-Lite.
Share

Comments