In this months column of Where is the Industry Heading, we bring you an interview with Mark Wynn-Edwards, a freelance lighting designer and console operator out of Hull, England. Mark has designed and/or ran lights for such clients as Rod Stewarts, Sum 41, Soilwork, Opeth and Jamie Cullum to name a few.
Mark was kind enough to take time out of his current tour with Paloma Faith to sit down and chat with us about Where the Industry is Heading. To read the entire review:
In regards to paperwork, how has that changed from when you started to where you are now?
The method for generating paper work has changed when i first started i was using a stencil, these days i do everything on CA this i quite like as you can make changes so much simpler and in my view makes a much better and neater final result. The amount of paperwork generated hasn't changed its just more concise.
What are your thoughts on LED's in general for use within the industry?
I love LED fixtures it is even better that the new fixtures with amber are coming through so we can start to get a proper white not a blue/white. I have toured quite a few 100% LED rigs they really are the future the low power consumption is great for touring running entire rigs off very little power is great , means i have put production lighting in venues that have never seen anything like it. I think as an industry we will have to start using less resources.
What challenges do you face with the ever changing console architecture?
I don't find there to be many challenges as most desks are in my view are getting  simpler to use and they only have a few differences to eventually get the same result these days it comes down to how you like working as to what desk you like to use
personally i use the Jands Vista when ever i can as i find it a great way to work  closely followed by Hog and Avo.
Does 3D rendering provide a reliable method for developing a concept while designing out a production?
I think it does saves on production costs and time i have programed up quite a few shows from the comfort of my own home its a really good way to work any production  manager is going to go for the small fee i will be charging compared to flying a whole rig for a few extra days so i can get stuff into the desk.

It also means when i turn up for the production day i have 98% of the show in the desk so as a result it is a much more productive day and gives the techs more time getting the rig road ready.
Do you feel that projection media is a form of lighting or should it be considered a separate field?
Projected media is a field i have just started to move into and use  currently  i think of it as a nice bridge between video and lights  i think the fields will always remain separate but with very blurred edges.
Looking back at a past production, how would you change it with some of the latest technology out on the market today?
I don't like to look back on shows and think that would be so much better if i had …. i like to think of the shows as the best i could do with what budget and resources i had at the time  ,having said that with some of the 100% LED rigs i often wonder what they would have being like with the ability to do a proper white would it have given more impact ….who knows.
What new or upcoming technology has the potential to change the lighting industry?
Technology Advances come through every year the industry slowly changes in some case for for the better and we all keep learning new skills but i don't think the technology will vastly change the industry as the end result will always stay the same we just take a different route to get there and have more toys.
What advice can you give to a beginner looking to make it in the industry?
The best advice i can give is watch and learn the old boys in the industry and don't assume you know everything also its not always about the amount of lights you have but how you use them.
Do you have any tech-table rituals or traditions?
No, not really …… sorry.
What is your favorite gel color and why?
Lee 181, i love the effect is has on surfaces i have a few favorite colours  but this would be top one.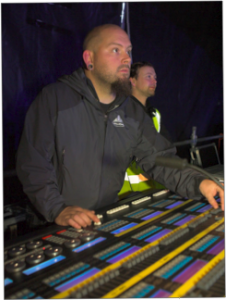 Mark is a lighting designer and Operator for Concerts and TV based out of England, but also works in the United States from time to time out of Chicago.
Some of his previous clients include: In Flames, Klaxons, Sum41,Opeth, As I Lay Dying,Grace Jones , Rod Stewart, BBC and ITV – 3 Sixty.
In addition to designing and running lights, mark also owns and operates a Jands Vista T2 lighting Console.
You can contact Mark via his website at www.markwynnedwards.com or twitter at @marktherockLD.
Share

Comments