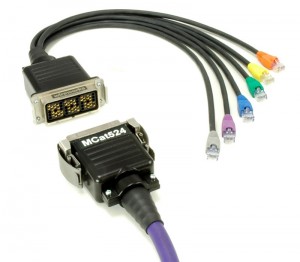 Wireworks out of Hillside, New Jersey is preparing to announce a new multi-cable with Cat5 connectors called MCat5. Think of the MCat5 cable and connectors as a Socapex break-in and break-out cable for networking with Cat5 cables. The MCat5 makes running multiple lines of networking cable quick and easy by combining 6 individual lines into one and then broken out or in at either end.
Where could this be useful, think of running multiple network feeds to a tech table in the house or multiple line to a truss or batten where a lighting network is in use.
The cabling device uses a sturdy multipin connector in place of standard RJ45 connectors for creating a rugged point-to-point connection. The MCat5 is made of heavy-duty CATe rated cable with a extra-tough double jacketed shielded cable design. With a small overall diameter of 0.57″ and weighing 14 lbs. per 100′, the MCat 5 is designed to be easy to work with and hold up to the rigorous demands of tour and live production.
Each of the tails supports six channels or runs of 10/100/1000BASE-T signal. Tail sets are also available to support 12 channels or runs of 10/100BASE-T using cable sharing technology. Each individual RJ45 connector on either end of the tail sets are color coded for easy identification.
Runs up to 250′ are available with either standard RJ45 or ethercon connectors on the tail sets. Pricing has not be released yet.  For more information on the MCat5 from Wireworks, visit their web site at www.wireworks.com.
Share

Comments