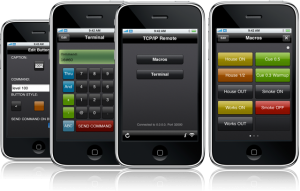 Over the weekend I received a note from Zinman Software that Michael has just updated his TCP/IP Remote App for the iPhone and iPod Touch to Version 2.0.  I personally love this app not just for the uses in the lighting industry, but also for home "automation".
Since the app works with any device that is connected to a network, I use the app to mess with my lovely wife by sending log off or sleep commands on my desktop at home via command line.  Is this what the app was developed for, probably not, but none the less, it is still a fun use of the app.
So what is new in version 2.0?
Better User Customization to the GUI
Unlimited pages of Macros
Unlimited pages of Terminal/remote views and buttons
The ability to edit buttons inside the app
Version 2.0 of TCP/IP Remote is a free download for current owners of the app.  New users to the app can download it from the iTunes App Store for $9.99 USD. Learn more about Zinman Software's TCP/IP Remote App by visiting their website at www.zinmansoftware.com.
Share

Comments