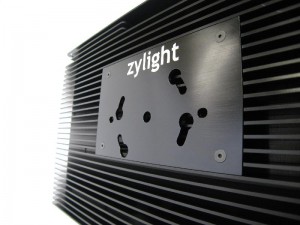 Zylight is preparing to launch a new LED studio fixture, the IS3 Studio LED fixture in two weeks at the NAB (National Association of Broadcasters) Show in Las Vegas.
Zylight is the maker of the Z90 and Z50 on camera LED lights for the broadcast and film/video industry. They have taken the technology from the on camera lights and produced a studio fixture for use not only the TV studio but any where that LED's can be utilized.
The IS3's built-in controls and sunlight readable digital displays allow easy and precise control with no external control boxes to buy. And expanded four-color mixing guarantees accurate color rendering and beautiful skin tones.
From the information that we received, Zylight is boasting that the IS3 is over four times a brighter the other LED lights in it class.  They do not mention which fixtures or class the IS3 is compared to or mention any specific specs on the LED's themselves.
The IS3 features:
Soft, wide, and BRIGHT output
Fully adjustable range of Color Temperatures
Fully adjustable +/- green Color Correction
Full-color output for washes, highlights, green screen, and effects
Built-in DMX with full-size XLR connectors
Full wireless remote control via ZyLinkTM
AC or battery powered
Carry handle for easy portability
Integral lollipop arm mount
Built-in tie-down points for rigging
Shock absorption for years of dependable use & abuse.
The IS3 is plenty big at 18″ x 11″ x 2″ thick.
An official release date or pricing has not been made available at the moment. For more information on Zylight, visit their website at www.zylight.com.
Share

Comments