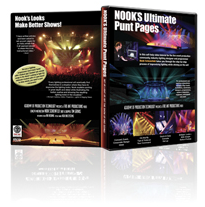 The Academy of Production Technology announces the release and special LDI trade show pricing of "Nook's Ultimate Punt Pages," a new training DVD designed to instruct lighting programmers how to run a show "on the fly."
The DVD is available for sale Oct. 22-24 at booth #1828 in the Las Vegas Convention Center. Those who ordered the DVD during its pre-release promotion may pick up their copies at the booth by showing their printed web order. DVDs may also be purchased via the website www.ultimatepuntpages.com Special pricing ends at the conclusion of LDI.
In the one-hour DVD tutorial, industry lighting designer/programmer Richard "Nook" Schoenfeld guides viewers through his step-by-step process of a universal punting method. As a design specialist in festivals and festival-type tours, Schoenfeld says, "Punting as opposed to programming the entire show ahead of time has not only become an art form, but the shows usually look much better."
The universal art of punting involves setting up one page of the console with as many programming elements as possible before the show. This allows the designer to then choose focus positions or movement cues, color schemes, gobo patterns and intensity levels through a variety of faders and push buttons on the fly, Schoenfeld explains.
The special LDI 2010 pricing on the DVD is available on the website at www.ultimatepuntpages.com.
For more information on other Academy of Production Technology training tools, visit www.APTxl.com.
Share

Comments