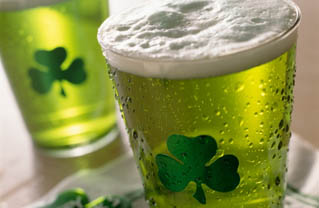 HAPPY ST. PATRICK's DAY everyone!  As we celebrate Ireland's Patron Saint Patrick tonight. I have a fun little mission for those of us of age.  While partaking in your favorite beverage of choice which just might happen to be green today, take along your favorite gel swatch book. While holding up your beverage toasting to St. Patrick, locate the closes matching gel color from your swatch book and report back.  Why?  I think the correct response would have to be, Why Not?
An added bonus: If you send me a photo of your green tongue, I'll send you a little something in return! ;) You can email those photos to me at info@isquint.net.  If they are not to "revealing", I'll post them here on iSquint.
As you are celebrating tonight, please, PLEASE drink responsibly and designate a driver and be safe. As I have to work later then normal tonight and can not partake in celebrating at my pub of choice, If you are in the Washington, DC area and need a DD, email or Direct Message me (@iSquint) and I will be happy to pick you up and drive you home.
HAPPY ST. PATRICK'S DAY!!!
Share

Comments