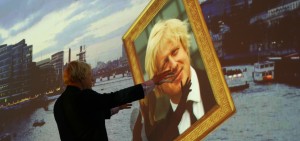 Check out this bit of awesomeness out of London from TMB and Coolux. We are getting closer and closer to "technology" that was shown off in movies from the 80's.  Sooner or later we'll catch up to our selves.   Here is more about this amazing technology from TMB's press release:
Last month's Londonlaunch:live networking and educational event at the Saatchi Gallery in Chelsea featured interactive displays by Universal Live.  The two-day event gave UK event planners and specifiers a look at the latest "digital canvas" technology.  "Londonlaunch:live is a typically brilliantly original London idea," says keynote speaker and London Mayor Boris Johnson.
Featured in a dedicated room at the exhibit was AirScan by coolux.  A component of coolux AirTouch technology, AirScan infrared motion sensing operates with coolux Widget Designer PRO for completely touch-free interactivity.  Full HD video presentations of any type or size can be fully controlled by the user's arm gestures, providing a completely interactive experience.  Just a few AirTouch system features include:  Large-scale scanning range, up to 10m / 30ft.; advanced motion stabilization; dynamic gesture menu programming for unlimited menu page configurations; and much more.
See amazing clips from Londonlaunch:live at www.universal-live.com.  TMB is exclusive distributor for coolux and Pandoras Box media control systems in the UK.  Find out more at www.tmb.com/products/coolux.
Share

Comments