Alcorn McBride has announced the introduction of four innovative products for the themed entertainment industry. New items include two iPad apps for lighting and show control and two audio playback systems. All four will be shown in booth 465 at the upcoming IAAPA show in Orlando.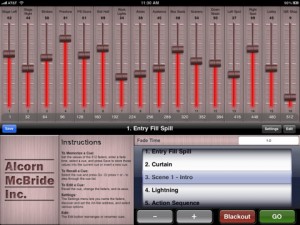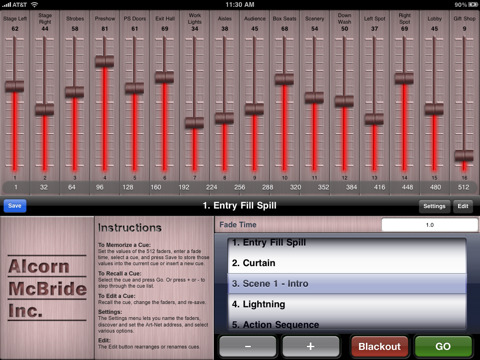 New iPad Apps — Touch, a user-friendly drag and drop utility for creating show / media control applications, comes to the iPad for portability and wireless convenience. Touch allows users to design full-featured touchscreen user interfaces for applications of any size; its platform includes a large library of virtual switches, buttons, indicators and displays. With the Touch app, the iPad wirelessly obtains real-time information from the show controller and allows the interface programming to be archived and retrieved from the controller. For users wanting a stationary Touch interface, Alcorn McBride offers ShowTouch, a rugged touchpanel with an armored resistive screen and rugged metal housing. LightingPad™ is used to control lighting for small shows or for installing and testing lighting systems; it may also be used to program Alcorn McBride's LightCuePro™. The LightingPad controls 512 channels of DMX and stores up to 100 cues with independent fade times. With the Art-Net DMX-over-Ethernet protocol it can automatically search and display any Art-Net device.
ProTraXX — The ProTraXX plays eight independent stereo tracks from a single economical rack mount unit. Enhanced features include Ethernet for remote updating and microphone/auxiliary inputs for zone paging. ProTraXX offers high quality MP3 audio playback in a compact, solid-state unit. Hours of audio clips can be stored on CompactFlash cards for years of reliable service. Each track is designed to operate independently and can be individually triggered by a dedicated discrete input; this allows direct connection to proximity sensors or switches. All tracks can also be controlled from a single RS-232 or Ethernet port.
8-TraXX – This updated version of Alcorn McBride's popular audio playback unit now offers Ethernet control and remote update along with contact closure, voltage, RS-232 or MIDI control. With the 8TraXX, users can access eight independent stereo tracks from a single, economical rack-mount unit. Tracks are individually triggered for maximum flexibility in attraction designs.
Also on display at IAAPA 2010 will be Alcorn McBride's current suite of audio, video, lighting and control products for themed entertainment. Products at the show will include the V16 Pro Show Controller, ShowTouch, the GPS-enabled Digital Audio Machine and Digital Video Machine HD, the eight-channel Digital Binloop HD, LightCue Pro and the DMX OverRide.
You can learn more about Alcorn McBride's products by visiting their website at www.alcorn.com.
Share

Comments