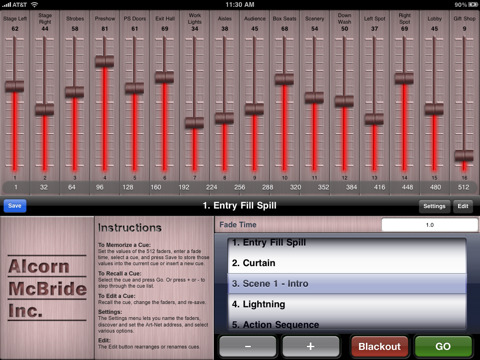 After doing a little searching on iTunes, I noticed that Alcorn McBride released an iPad app back on June 26 to the iTunes App Store, LighingPad. If you didn't know, Alcorn McBride produces some pretty interesting control and playback devices for the entertainment industry.  And not just lighting either!
But I digress, what about the LightingPad App… The app is universal and works on both the iPhone iPod Touch and the iPad. It is a simple DMX lighting console with the ability to control 1 universe or 512 DMX signals via Art-Net.  Now you do need a little bit of networking products in order to send signal from your Apple device of choice to your fixtures/dimmers so do a little home work here.
LightingPad also offers the ability to store up too 100 cues with independent fade times.  On top of that, you also have the ability to save and load cue stacks or files from your computer. What is really cool, is the ability to "roll" through your cues and then execute them.  It kind of reminds me of AvoLites Roll-a-Que!
Now, one thing I did notice right off that bat after downloading and playing with the LightingPad app is there is no way to patch anything.  Channel/slider equals DMX address one so all of the sliders are patched 1 to 1.  Kind of limiting but at then same time, it could be used as a diagnostic tool rather then running a complicated rig.
For more information on Alcorn McBrides LightingPad app for the iPhone, iPod Touch and iPad, visit their web site at www.alcorn.com.  You can purchase your very own copy of the app from the iTunes App Store for $9.99.  Here is a quick tutorial from Alcorn McBride on how the LightingPad App works.
Share

Comments