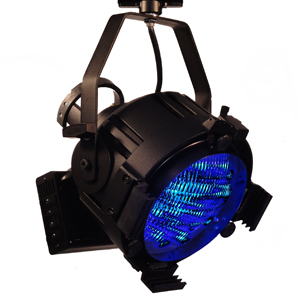 Altman Lighting just announced that they have begun shipping out their latest LED product, the Spectra Star 100w LED fixture. The Spectra Star's are an RGBA or 3000k white LED PAR using the Star PAR body and lenses. By making them indoor only fixtures Altman was able to cut the weight by 1/2 compaired to the original Spectra PAR. The unit is available with either a c-clamp and dmx in and out or as a Altman Smart Track compatible fixture.
Both versions of the Specta Star use Luxeion Rebel LEDs to produce an average of 900 field lumens for the RGBA fixture and an average field lumen of 1,900 for the White LED version. Both versions of the Specta Star also make use of your typical beam spreads with a VNSP, NSP, MFL and WFL Par lens.
The Spectra Star weighs in in at about 16lbs or 7.26kg and can operate on 120v – 240v with a draw of just 1.5 amps on 120v and .75 amps on 240v. Retail prices have not yet been added to Altman's web site, you can however contact your local Altman Dealer to get a price.  To learn more about the Altman Spectra Star, visit their web site at www.altmanlighting.com.
Share

Comments