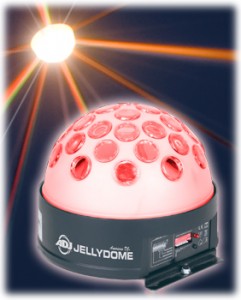 How do you follow up on something as wildly popular as our revolutionary Jellyfish 2-in-1 beam effect? Easy – by offering a second helping of jelly, with a new 2-in-1 effect, that's just as transparent, just as versatile and just as likely to stop people in their tracks, get them to turn their heads, point up at the transparent case and say "WOW! I never saw anything like that!"
Meet the new American DJ Jellydome, an intelligent RGB LED moonflower the produces seven brilliant colors and – like the Jellyfish — boasts a glowing see-through dome case. Used with the Jellyfish, our newest transparent light is certain to give your show a memorable edge.
The Jellydome packs a powerful one-two punch: its 34 sharp RGBW beams of light make it a great moonflower, and its transparent case creates a unique glow effect. Even in the off position, the Jellydome resembles a magnificent bejeweled dome that is sure to catch attention. When active, the 10W 4-in-1 RGBW LED is capable of producing 7 dazzling colors: red, blue, green, purple, yellow, cyan and white, so any mood can be achieved through the vast array of hues.
Boasting a 138° beam angle of brilliance, this dance floor diva can produces stunning effects with or without the use of fog. The Jellydome's 3 available DMX channels and 3 operational modes allow for unmatched effects possibility, while the 0-100% electronic dimming can create any desired ambiance with ease. This stylish light effect features multi-voltage operation (AC 100-240V, 50/60 Hz), so it's ready to produce a glittering mirror ball effect for party people wherever they may be.
This brilliant dome can run all night as long as the party is pumpin'; and thanks to the Jellydome's practical fan-cooled mechanism, the dance floor will remain hot only in the figurative sense. This incandescent wonder can be packed up as soon as the party is over, so you no longer need to wait for the device to cool down to safely tuck it away.
The Jellydome's handy linking capability via its 3-pin XLR cable means you can pack a cache of these jewels in your treasure chest effortlessly. What's more, because of the Jellydome's lightweight and petite stature, (8.25"L x 8.25" W x 7" H and 5 lbs.), mobility and traveling with multiple units is a breeze. Mobile entertainers will marvel at the overall ease and portability of the newest member of the Jelly family and appreciate the convenience of its extremely long LED life, so they can shine on for years to come.
The MSRP of the Jellydome is only $259.95. Check it out at your ADJ dealer! Now you have to see this thing in action…
Share

Comments