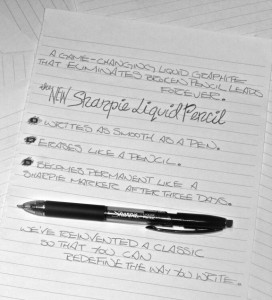 Before Vectorworks™ and WYSIWYG™ revolutionized the way lighting designers drafted a plot, there was only one way to get it done:  A pencil and a piece of paper. Now the pencil has been brought into the 21st century.
The Sharpie Liquid Pencil uses a liquid graphite that won't break and writes just like a pen.  The key is it also erases just like a pencil…for approx 3 days.  After that it becomes permanent.
So pull out your 11×17 graph paper and your Field Templates™ and practice your free hand; analog drafting has just gotten an upgrade!
Editors Note: Looks like the Sharpie Liquid Pencil is only available online through Office Depot. For just $4.99, you get two pencils and six erasers.
Share

Comments