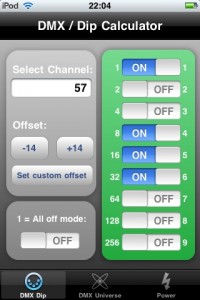 Fire up your iTunes and get your iPhone/iPod Touch transfer cable ready, there is another FREE lighting iPhone App out there to download.  Yes, it is ANOTHER DMX and dip switch calculator. The New app is called Lampy and is from Nick Shearer.
Here is what the iTunes Store says about the app.
Lampy is a free tool with several calculators for lighting technicians and designers – including power, DMX Universe, and DIP Switch modes. It's nothing fancy, but it's free! Featuring an updated version with new modes and user interface.
Honestly, what else can you say about it?  It is nice to see some of the lighting calculators coming into a single app.  So what sets this app apart from other calc apps just like it?  Other then the price of being free, not to much.  That is not to say that is not a useful app or any worth a download.  Download it and try it out, let me know what you think of the app in the comments section of the site.
Thanks UKSLC!
Share

Comments