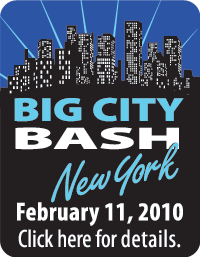 Apollo Design continues their Big City Bash events with another Bash announced for next month in the Big Apple, New York City.  If you have not seen any of the latest products from Apollo Design and you live or work any where near the city, you might want to stop by and say hi.
O Thursday, February 11, 2010, Apollo will be at the DoubleTree in Times Square demonstrating some of their products.  More from Apollo Design:
Please join us for hands-on demonstrations of Apollo's complete lineup of entertainment lighting products, including the exciting new Spotlight Architectural Fixtures, Multiform LEDs, and Smart Color PRO scroller. Combined with our color filters, clean laser produced gobos, and numerous other lighting effect accessories, Apollo now offers even more solutions for your 2010 lighting projects.
When: Thursday, February 11, 2010 11 a.m. – 7 p.m.
Finger Food/Beverages, including beer & wine after 4 p.m., will be provided.
Where: DoubleTree @ Times Square
Corner of 47th Street & 7th Avenue
New York, NY10036
Room: The Hudson Room, 6th Floor
RSVP for the Apollo Design Big City Bash New York.
Share

Comments