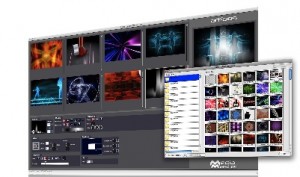 ArKaos has just announced the release of their latest update to their popular media server software, MediaMaster 1.2.  This new version of MediaMaster makes use of ArKaos' latest generation of real time video technology to deliver incredible performance on any MAC or PC on which it is installed, including standard laptops. MediaMaster 1.2 is capable of playing up to eight simultaneous layers of HD video, without dropping frames, when running on an octo-core server.
More from the press release:
A major addition to this new release is the ability to both mix the audio track from movies and to control the global audio volume via DMX. As a result, a DMX control desk can now act as an audio mixer. Also new is MediaMaster 1.2's support of Quartz Composer. This Mac-only technology allows both the creation of GPU accelerated movies and highly customized effects and music visualizers. The addition of this feature now makes it very easy to create animations that read information from web pages and present it in an attractive way. Flash Animation Player has been enhanced by its support of Actionscript3. This opens new doors to developers who want to create unique animations and music visualizers on Windows or Mac.
These new developments also open MediaMaster 1.2 to an infinite array of new creative possibilities by offering users an easy way to design unique audiovisual shows that combine traditional video and lighting with audio reactive visuals and advanced custom effects.
As a highly professional media server software, MediaMaster also comes with features such as improved Frame Blending Support for extremely smooth video playback even at slow speeds, perfect Soft Edge for seamless blending of multiple projectors, high resolution output at up to 4096 pixels on supporting hardware and advanced media composition due to its support of alpha channels.
The software is fully compatible with Matrox Dual, TripleHead2Go Analog and Digital Editions, allowing several projectors to be connected to a single server.
MediaMaster is the only solution offering decompression engines for almost any video format. This dispenses with the need to recompress video files which, in turn, provides maximum flexibility for the designer who can work with almost any file in a very user-friendly way.
Thanks to the CITP support, Media Server Extensions (MSEX) enable media information to be displayed on many lighting consoles, including those from Avolites, Chamsys, Compulite, ETC, Zero88 and ADB. The software also listen directly to a GrandMA console through the MA-eDMX protocol resulting in a simpler and more efficient setup between these two very popular products.
Finally, the ArKaos Media Server A10 HD already incorporates the new MediaMaster 1.2 software. This super-fast media server is designed for customers who demand a high-performance, turnkey solution which guarantees the best video performance and can run large shows seamlessly.
If you are attending ProLight + Sound 2010 in Frankfurt Germany on March 24 through 27, be sure to stop by ArKaos's booth, C30/C28 in Hall 11.1.  You can learn more about the MediaMaster 1.2 by visiting Arkaos web site at www.arkaos.net. You can even download a trail version of the software to put it to some test.
Share

Comments