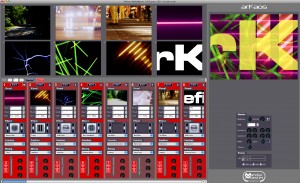 ArKaos, the company that brought us Media Master, is pleased to announce the release of MediaMaster Express, the latest update of its media server software.
MediaMaster Express is a simple, cost effective version of ArKaos' professional tool for creative projection and LED use within video design. It has been created especially for small theatres, clubs, shops, bar installations and freelance light designers. Anyone with a limited budget can now enjoy the results of a powerful media server at an affordable price.
ArKaos has designed MediaMaster Express to help users to set up a show and incorporate video quickly, easily and cost-effectively. There is no need for large or expensive lighting consoles. With only a small lighting desk or the basic ability of DMX or MIDI synchronization, customers can now benefit from the powerful media management and efficient media playback of MediaMaster, by choosing MediaMaster Express.
MediaMaster Express has been designed with a simplicity that makes it equally suited to both entry level users and to the more experienced technician who requires only Simple Mode use.
MediaMaster Express uses a similar method to that which made the ArKaos VJ DMX Simple Mode so popular. Just drag and drop visuals on the interface – no video recompression is needed – then assign them to DMX or MIDI triggers.
Control is via a computer keyboard – like all ArKaos products, Media Master Express is compatible with both MAC and PC – a simple DMX lighting desk or any MIDI controller compatible with your system.
MediaMaster Express Main Features:
Mac and PC compatible
8 HD layer
Control video layers with just a few DMX dimmers or MIDI notes
Work on a single DMX universe or MIDI channel
Drag & Drop visuals directly on the main interface
No video recompression needed
Organize your shows with up to 64 patches of 64 cells
Control up to 3 parameters per cell via DMX or MIDI
Optional fade time on trigger
Led mapper included
The retail price of MediaMaster Express is 799 Euro, or about $990.00 USD based.  To learn more about MediaMaster Express from Arkaos, visit their web site at www.arkaos.net.
Share

Comments