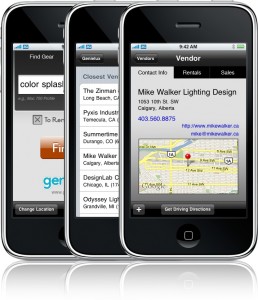 I wrote about Zinman Software's latest app Genielux, a couple of weeks ago but it requires another look. I am specifically calling on Rental Houses, Production Companies, hire houses or any one that rents or sells lighting, sound video, rigging and special effects equipment.  Take a look at Genielux, not only can it help us, your rental customers find you, but it gets your equipment list out there and searchable by the world!
Here is more from the Press Release:
The initial launch will allow vendors such as production companies, rental or hire houses, or individuals with rental or sales inventory to list their gear in the worldwide database. The second phase in February 2010 will launch the searchable database and the free iPhone application. The database will include lighting, control, audio, video, rigging, special effects, and more. For a limited time, new listings will be upgraded to a Featured Listing for no extra charge.

The application is free to users. Equipment listings are $2 per month for a standard listing and $12 per month for a featured listing. A single listing can include an unlimited amount of gear. All listings purchased before February 1 will be upgraded to a Featured Listing for no extra charge.
For us end users and rental customers, we have to wait till February in order to take advantage of Genielux.  On February 1, Genielux will be available for FREE from the iTunes App Store. For more information on Genielux or to sign up as a vendor, visit the Genielux website at www.genielux.com.
Share

Comments