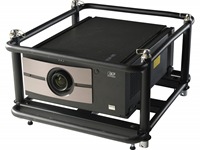 Barco just announced two things at the same time.  First, they are introducing the RLM-W8 projector. The projector brings the saturated colors of three-chip DLP projection to events and fixed installations, at the price of single-chip DLP technology.
With an enhanced contrast, quick and creative stacking options as well as built-in warping capabilities for curved surfaces, Barco's RLM-W8 is a versatile choice for mid- to large-sized venues. In addition, it features blending technology to create seamless composite images across a canvas of any size. The RLM-W8 continues the RLM line's tradition of silence as well as low energy consumption.
Second and most important thing… Barco is running a contest to win one! The RLM-W8 boasts the quality of three-chip DLP technology, native WUXGA (1920×1200) resolution and a bright 8,000 lumens light output. With native warping and edge blending capabilities, the RLM-W8 is a versatile companion for any event. What's more – you can win one. Simply try to answer two questions. The contest runs until 1 October, and they will announce the winner on 4 October.
What are you waiting for!?! GO ENTER NOW
Share

Comments