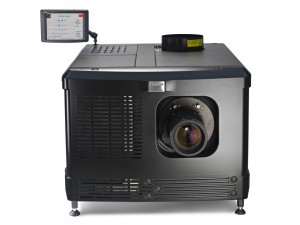 The introduction of the new Barco DP4K-32B doesn't come as a surprise. Last month, Barco already held a live demonstration of a pre-launch version of its new DLP Cinema® Enhanced 4K projector during a visit to the company by Cinemark. This week, the official unveiling took place at a special red carpet event with live 4K screenings at Cinemark's Festival Bay Theatre in Orlando.
Based on the 1.38" DLP Cinema® Enhanced 4K chip from Texas Instruments, Barco's new DP4K-32B guarantees razor-sharp movie images combined with DLP Cinema®'s proven, consistent color uniformity, rich contrast and Academy Award-winning vibrant, accurate colors. In addition, the ultra-high resolution projector benefits from a first-rate optical design and superior lamp efficiency, which results in a record light output and an unmatched visual 3D experience. Finally, the new DP4K-32B also features a unique, patented cooling system, creating the coolest 4K engine in the world. This ensures unrivaled reliability and a significantly increased lifetime compared to competing products.
The top-of-the-line DP4K-32B shares the same modular platform as its DP2K sister models. Thanks to this true modular design with its easy serviceability, customers can significantly raise their uptime, while minimizing their spare parts stock and keeping their service engineers' learning curves short. To further reduce cost of ownership, the Barco projectors feature a lamp operating cost that is up to 30% lower than our competitors, while still leading the way on light output.
Shipments of the new Barco DP4K projectors are expected to begin in early 2011, as production will ramp up in line with the availability of 4K DMD chips from Texas Instruments.
Learn more about the Barco DP 4K-32B by visiting barco's website at www.barco.com.
Share

Comments