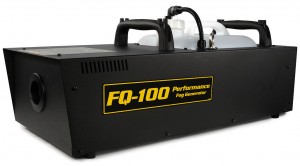 Barco/High End just announced the release of a new fog generator, the FQ-100.  If you are familiar with High Ends F-100, then you might already be familiar with the FQ-100.
More from High End
The FQ-100™ performance fog generator is designed to meet the rigorous demands of the nightclub, theatrical and touring industries. This updated version of the industry standard F-100 fog generator produces any atmosphere – from dense fog to fine mist. The legendary Atmospheres® Fog Generating fluid is specially formulated to provide a dense, safe, water-based fog of a fine particulate size.  In addition to low noise levels ideal for theatrical and studio work, the FQ-100 also includes an internal LCD digital menu system providing the ability to set the volume control, timer control, and DMX functions as desired.  The FQ-100 performance fog generator continues the tradition and benchmark set by the original F-100.
Features
Large 9.5 liter ( 2.5 gallon) removable fluid reservoir for extended use
Atmospheres® scientifically formulated fluid provides optimum particulate size for lighting applications
Output
20,000 cu.ft (566m3) / min output
10 min / 1 liter  fluid consumption rate
11 minutes warm-up time
optoelectronic liquid sensor with auto shutoff
To learn more about the FQ-100, visit High End's website at www.highend.com.
Share

Comments