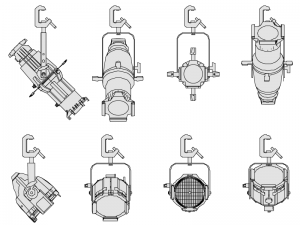 Joshua Benghiat has been hard at work again developing his latest Vectorworks Plugin, Source Four Savvy Section. You may remember Joshua's other Vectorwork plugin, Beam Draw 3. With Source Four Savvy Section, Joshua has made it easy to tweak and adjust your lighting fixtures with in Vectorworks.  You can adjust the light fixture to any angle you want, both pan and tilt.  Say in Section View you want a source four going across stage to represent correctly on you drawing, no problem, that function is built into the plugin.
What about adding fixture accessories like sidearm tee's, scrollers or top hats.  Simple, select the fixture, add the accessories you want from the object info window and done.  The plugin takes care of the rest. Take a quick look at what the plugin does in a short YouTube video that Joshua did with the plugin.  Oh, and don't bother turning up your speakers, there is no sound.
The Source Four Savvy Section Plugin from Joshua Benghiat is wrapping up developement as you read this.  Joshua hopes to have the plugin avilable at the end of July. The standard version of the plugin runs $14.99.  There is also a student version that runs $4.99.  Yes, you do need a copy of Vectorworks which you can pick up from Nemetschek. To learn more about Joshua's plugin, visit his web site at www.benghiatlighting.com.
Share

Comments