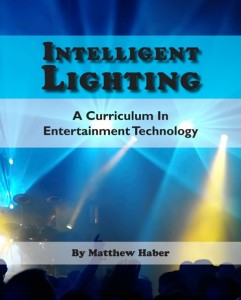 A couple of weeks again I mentioned a new book out on the market named Intelligent Lighting: A Curriculum in Entertainment Technology.  The author, Matthew Haber was kind enough to provide me with an evaluation copy to write a review of the book here on iSquint.net.
I always like to start a review by what the author and publisher have to say about the book, so here it is:
Intelligent Lighting: A Curriculum in Entertainment Technology is the first ever textbook for secondary school and university level classes on intelligent lighting. Written by the Author with the contributions of various industry partners and professionals, this book covers topics including moving lights, media servers, light board programming, LED fixtures, scrollers, and communications protocols. This publication is designed to excel equally as an all around reference guide for students and professionals alike as well as a textbook for technical theatre education. In addition to full color photographs and informative sidebars, Intelligent Lighting: A Curriculum in Entertainment Technology includes a handy glossary of technical terms, chapter review questions, and a book long design project.
Who the book is intended for
As you can read from the synopsis about the book and even the title, the book is intended for someone new to the industry and wanting to learn more about the technology that we use day in and day out. Whether that be a student in high school or at the college level, or even someone that has found the love of lighting late in their years, the book is intended to guide these entry level users through the basics of our technology. It is recommended that you have a basic understanding of lighting such as common types of lights, general terminology and of course, which end the light comes out helps. ;)
Concepts and layout
Since the book is designed to educate a novice to the industry, the book reads as though it is a text book, hence the title, a curriculum. The layout of the book and information has the same style that you might find in almost any educational text book.  The sections are clearly laid out by the subject at hand and start from the basics leading through protocols, fixtures and then in to my favorite control and programming functions.
Each section begins with a little bit of history about the subject.  I think this is always important, having a little history lesson about the subject.  Not only is fascinating to see how something came to be, but it also gives a glimpse at the method-to-the-madness and how something came to be.
After the quick history introduction, each chapter begins with a pretty though explanation of the subject it talks about and is broken down in to meaningful and clear chunks of information.   For example, the section on Communication Protocols. At the beginning of the chapter there is a listing of what the chapter contains and then is broken down into each of those sections.  It made going back and reviewing a particular section easy to find and re-read if it wasn't clearly understood the first time around.
With in each chapter, images are used.  I mean USED! There are a huge amount of images of the products, concepts and examples used through out the book.  It almost feels like a picture book at times.  I feel that is a good thing for a beginner.  Sure you can talk about additive and subtractive color mixing and word it just right to were a photo might not be needed. For me, I am a visual learner, if there is an image explaining what I just read, I'll be able to comprehend the subject so much quicker.
I am not saying the Mr. Haber used so many images that he didn't have to full explain a subject, he did that quite well for a novice to understand the subject.  Images and diagrams always help reinforce what was written.
Each chapter of the book concludes with some reinforcement, review and questions to make sure the subject is locked away in your brain ready to use when needed.  There is a box of important vocabulary words used within the chapter that the author felt needed to be mentioned again.  Additionally, these vocab words happen to show up again in the books fairly extensive glossary.
The review questions at the end of each chapter make you think about what you have just read.  Did you read it and actually taken in what was mentioned?  These questions at the end make sure you do. Some of the questions don't just ask you something that you simple read in the chapter, but make you think about what you read.  For example, back to the Communication Protocol chapter.  While the book explains what ArtNet and ACN is, one of the review questions ask, what is the difference between them! Time to put what you learned about the two protocols and explain for yourself what the differences are.
Conclusion
I feel that Mr. Haber's book, Intelligent Lighting: A Curriculum in Entertainment Technology holds true to it name and delivers what it promises.  This is a great entry level text book for educational facilities that want to offer students an introduction in to some more advanced technologies that our industry uses.  The book gives a great overview of these technologies and is a good starting stone to begin with.
If you are an educator and are looking for a text book for your entry level or lighting 101 class, I encourage you to take Mr. Haber's offer up and getting an educators evaluation copy and see for yourself if Intelligent Lighting: A Curriculum in Entertainment Technology will suit your course objectives. It's as simple as contacting publications@metti.org.
You can pick up your very own copy of Intelligent Lighting: A Curriculum in Entertainment Technology by pointing your browsers at amazon.com and pick it up for the discounted price of $39.20.
Share

Comments