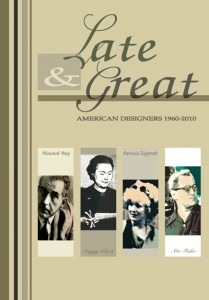 I am a huge history buff.  I just can't get enough learning about our past!  ESPECIALLY when it comes to our industry. I've mentioned it before and I'll say it again.  I feel that we should look to the past and learn about where we can from to help us move forward. History has a way of foretelling our future in some way shape or form.  Will history tell us what the next great thing is, probably not, but think about trends.
Back to the book.  USITT has announced the release of their latest book, Late & Great: American Designers, 1960-2010.  The book is written by Bobbie Owen but 27 authors contributed to producing this look into our history. Here is a little more from the description.
Designers participate in the creation of art and entertainment productions with the same level of professionalism as performers and directors, but their names are less often remembered and their contributions can often recede into the collective memory. Late & Great: American Designers 1960-2010 helps to raise designers' public profile by honoring 25 designers with a record of their artistry.
The book is published by Broadway Press and is available through the USITT website, www.usitt.org for $40 USD for current USITT members and $45 USD for non-members.
Share

Comments