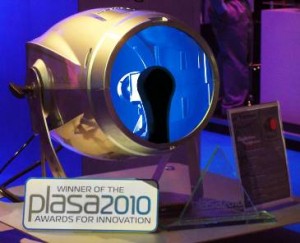 Winning the 2010 PLASA Award for Innovation, Coemar released their latest product, the Reflection Full Spectrum LED Fixture.
The Reflection is a revolutionary (patents pending) static LED fixture that brings an entirely new concept to this field of lighting: a compact, interchangeable, and modular light source – just like a lamp in conventional fixtures – that creates unmatched intensity by directing light from a unique combination of LEDs onto a parabolic reflector. This design also eliminates problems such as RGB dots and multi-coloured shadows which have plagued many other designs, delivering a unique, uniformly-coloured light beam. By moving the light source in relation to the reflector, this beam can also be zoomed smoothly via DMX from 10° to 17° (1/2 peak angle), 16° to 25° (1/10 peak angle).
Heading to LDI, make sure to stop by the Coemar stand to learn more about the Reflection FullSpectrum as well as some new fixtures that Coemar is planning on announcing at the show. Till then head over to www.coemar.com to learn more about the Reflection.
Share

Comments