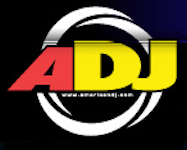 Musicians depend on their instruments, DJs rely on their lighting and audio gear. This connection leads to some pretty close relationships between man (or woman) and machine, which is why so many entertainers have pet names for their equipment. Think B.B. King's famous "Lucille," and "Brownie," the affectionate name of the Fender Stratocaster that Eric Clapton used during his meteoric rise in the early '70s. Now American DJ wants to hear from DJs about the names they've given their favorite gear – and the company is giving some cool prizes for this information, such as a the Revo Rave LED moonflower effect, the new Spherion Tri LED, a modern version of the mirror ball, and the new and widely-anticipated top secret version of the VMS4 Digital MIDI Workstation.
Entering the contest is easy, DJs simply have to send a video of three minutes or shorter to American DJ describing the pet name they have for their favorite American DJ light or American Audio gear, and explain the meaning behind the moniker. DJs who don't currently have an American DJ light or American Audio gear with a name can still enter the contest by talking about the name they would give their dream American DJ light or American Audio gear if they did own it. No purchase is necessary to participate in this contest.
The names used for lighting or audio gear can be whimsical, funny, inspirational or historical. For example, maybe a DJ wants to name his or her audio gear "Caesar" because it conquers audiences by putting forth great sounds to dance to, or maybe a light is named after "Apollo," the Greek god of light. Videos submitted will be judged on creativity and entertainment value – and they will be showcased on American DJ's YouTube Channel.
To enter the contest, DJs must submit their videos through American DJ's one-and-only "contest master" Brian Redd by using his YouTube channel to upload their entries.  Videos must be three minutes or shorter, feature either an American DJ or American Audio product, contain no obscene or offensive material and present no danger to the safety of any individual. The decision of the judges is final.
Deadline for the contest is Tuesday January 25, 2011. Entries received after that time will not be considered.  For complete rules visit the Brian Redd YouTube channel or by visiting American DJ's web site. Winners will be announced at the American DJ Customer Appreciation Party at the Mobile Beat Show in Las Vegas on Tuesday February 1. (Winners don't have to be present to claim their prizes.)
The first place winner will receive a new (top secret) still unannounced version of the American Audio VMS4 Digital MIDI Work Station (it won't be officially introduced until the January 2011 NAMM Show) and the American DJ Revo Rave. Second prize is one American DJ Spherion Tri LED. Third prize is one American DJ Jelly Dome. Fourth prize is one American Audio HP900 professional headphone. All winners also receive 200 American DJ Advantage points.
Share

Comments