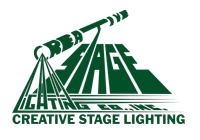 The fella's at Creative Stage Lighting recently announced their next webinar that takes place Friday, March 26 from 3:30pm to 5pm EST, The ABCs of Lighting a Green Show.  CSL has brought back industry legend and electron magician, Richard Cadena to host the webinar. Joining Mr. Cadena on the webinar will be guest lighting designer, Howard Ungerleider.
Together, along with attendee's interaction and questions, Mr Cadena and Mr. Ungerleider will explore the newest technologies and how to compare light sources in terms of light output, color, rendering, dimming , flicker, effects and cost.  When the smoke clears attendee's will have a better understanding of what you can and cannot do with the newest lighting equipment, how it will look, and what the payoff will be.
Interested in "attending" the webinar, be sure to register now and mark your calendar for March 26th.
Share

Comments