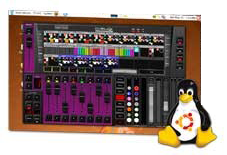 There is a certain bread of computer users that hate both Windows and Macs.  Their operating system of choice tends to be Linux, an open source and fairly stable OS.  With this limited collection of users also comes a limited selection lighting software titles. In steps Cuelux with their latest announcement of the Cuelux software now available on Ubuntu, a distribution of Linux.
Cuelux is a DMX 512 lighting controller for intelligent lights, LED, dimmers, lasers and various other effects. The programme is platform-independent and available on Mac OS X and Microsoft Windows. The software is shipped with a USB-to-DMX adapter cable, compliant with the new DMX512-A standard.
Key to the design of Cuelux is its intuitive graphical user-interface. It is specically designed to reduce the amount of time required to learn how to operate the software. Combined with its affordable price, Cuelux is available to a large audience of Light Jockeys, DJ's, free-lance technicians, rental companies and tour bands.
To learn more or to download a trial version of Cuelux for Windows, Mac and now Linux, visit their website at www.cuelux.com.
Share

Comments