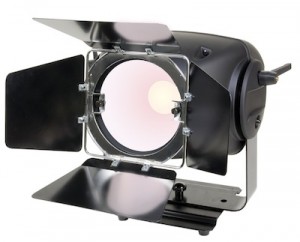 Elation Professional is proud to launch a major breakthrough in LED color-mixing with the introduction of the Color Tone 50.  A unique and advanced DMX-controllable LED color changer for staging, entertainment and architectural applications, the Color Tone 50 utilizes the all-new 50-watt Philips Lexel LED module, a revolutionary homogenized LED light source.
Unlike previous RGB LED fixtures that produced colors by combining red, green and blue beams from different LED lamps, all of the Color Tone 50's color blending is done within its single Philips Lexel module, resulting in superior colors and a whole spectrum of whites that are perfectly even and consistent in tone.  This new technology completely eliminates issues than can sometimes occur with RGB mixing, such as uneven output, discoloration, and "halos" or rings around beam edges.
Featuring comparable color-to-color output to a 500-watt halogen fixture with gels, the Color Tone 50 is ideal for theaters, stage shows, churches, trade shows, displays and architectural use. One of its very attractive features is Selectable Color Temperature from 2,700°K to 6,500°K, which allows users to "dial up" a whole spectrum of whites, from warm to cool to daylight. This, along with its convection-cooled silent operation, makes the Color Tone 50 perfect for television and video key lighting applications as well.
Users will find a whole array of other professional features on the Color Tone 50, including a Linear Electronic Dimmer from 0%-100% and a variable Strobe Effect.  Additionally, there are 8 User Assignable Program Presets, which let users edit and save programs either through the front control panel or an external controller.  Up to 48 program scenes can be saved and then called up and run via a menu on the control panel
The Color Tone 50 can be operated in 3 different modes: DMX, Manual or Stand Alone. When used with a DMX controller, it can be run in either 3- or 7-channel modes.  It features Elation's exclusive RDMX (Remote DMX Addressing), which allows DMX values to be set from the convenience of a DMX-512 controller.
The Color Tone 50 retails for $1,599.95.  Learn more about the Elation Color Tone 50 by visiting Elation's website at www.elationlighting.com.
Share

Comments