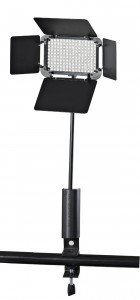 Ever wish you could carry around your own illumination source to provide light wherever it's needed?  Now you can shine instant bright white light on displays, exhibits, work areas, studio shoots — anything, anywhere, anytime — with the new LED Display Bar from Elation Professional.
A lightweight portable unit, the LED Display Bar consists of a bright rectangular white LED source with variable color temperature that comes with an attached removable wall or table-type clamp mounting system.  This versatile mounting system allows the bar to be positioned on a wall to spotlight a display, or on a desk to provide work light — or the system can be easily removed altogether and replaced with a standard clamp for hanging the unit overhead on truss.  The articulating head, along with the 4-way barn door system around the LED source, allows you to precisely direct the light to the desired area of illumination.  With such versatility, the LED Display Bar's applications are virtually limitless – from trade shows, exhibits, museums and retail displays, to offices, runways, DJ booths, TV production fill light, and more.
Wherever it's used, the LED Display Bar will provide brilliant, energy-efficient lighting in just the right shade of warm or cool white. Featuring variable color temperature from 2800-6500K, its rectangular lamp source contains 78 x 0.1-watt warm white LEDs and 78 x 0.1-watt cool white LEDs, allowing users to "dial up" the perfect white for the application.
Extremely portable, the entire unit – lamp and clamp system – weighs a total of just 2 lbs./0.9 kg.  It measures a trim 24.9" x 6.3" x 2.5"/631.7 x 161 x 63.2 mm. for easy packing and transport.
The LED Display Bar also provides users with all the benefits that come from a low-maintenance, energy-efficient LED lamp source.  Its long-lasting LEDs rarely need replacing, eliminating the hassle of burnt-out bulbs.   It draws only 12 watts of electricity, resulting in much lower energy bills than would be expected with traditional lighting sources.
The MSRP of the LED Display Bar is $199.95. Learn more about the Elation LED Display Bar by visiting their website at www.elationlighting.com.
Share

Comments