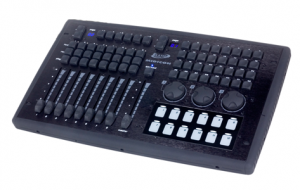 Do you like the design features of computer-based lighting software, but want a more "hands-on" feel when controlling your show?  Elation Professional has the perfect solution.  The company has unveiled MIDIcon, a MIDI-based playback controller that attaches to your computer via USB and works with Elation's lighting software packages such as CompuShow and Emulation to give you easy command of your light show.
Featuring large user-friendly buttons, faders and data wheels, MIDIcon has the look and feel of a conventional light board.  Each time you manipulate one of its controls, it sends signals to your software via standard MIDI messages, allowing you to trigger scenes and play back shows directly from its console-style panel, without requiring the use of a computer mouse.
To make things even easier, Elation has built templates for Midicon right into the CompuShow and Emulation software programs. This means there's no need for the user to configure MIDIcon.  Functions are already pre-assigned to the various buttons and controls, so you can start using MIDIcon right out of the box!  If you have a different brand of lighting software, not to worry – as long as it's MIDI-compatible, you can configure it to work with MIDIcon.  What's more, Elation is continuing to work with leading software manufacturers and will be developing MIDIcon templates for additional popular lighting programs in the future.
Compatible with both PC and Mac systems, MIDIcon uses Windows and Apple USB class drivers, so there's no need to install a driver on the host computer.  When you power it on for the first time, your computer will automatically assign the MIDI driver that is part of your operating system.
The MIDIcon unit features a Playback section with 8 – 100mm faders and 3 spring-loaded buttons above each fader. There is a page select giving you multiple pages of playbacks depending on the software you are using. There are also 3 encoder wheels that can be used for data entry or direct control of lighting parameters, a bank of 32 buttons for instant effects or scene calling,  12 touch pads for injecting "bumps" or momentary effects such as strobes and a grand master fader and blackout button.
The MSRP of the MIDIcon Playback Controller is $699.95. For more information, visit Elation Professional website at www.elationlighting.com.
Share

Comments