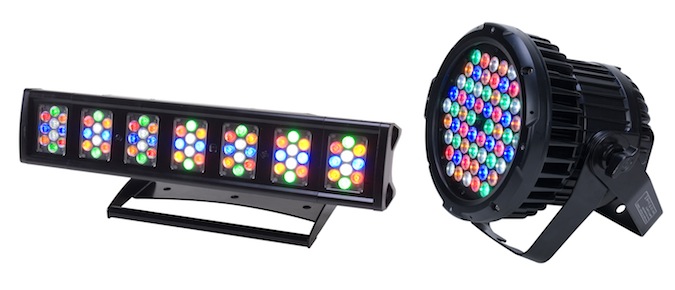 Elation Professional shows no sign of letting up in producing and manufacturing affordable LED lights! Elation just announced the release of two new LED fixtures that use not just RGB, but RGBAW, Amber and White.  Here is more from the official press release.
The Design Brick 70 comes loaded with 70 x 3-Watt LEDs (14 each red, green, blue, amber and white), blasting a powerhouse total output of 210 watts –astounding brilliance for a stage/wall color wash bar that measures just 24" long! The ELAR 180 RGBAW features 60 x 3-Watt LEDs (12 each red, green, blue, amber and white), which, along with its IP67 rating, make this hardy par the ultimate color-mixing machine for outdoor and architectural use, as well as for stage shows.
With both of these RGBAW fixtures, the addition of white and amber LEDs to the standard RGB trio enhances color mixing and broadens the palette of hues that can be created. The Design Brick 70 and ELAR 180 RGBAW can blend virtually any color imaginable with individual saturation and brightness, including true pastels and very warm yellows and oranges. By mixing varying amounts of amber and white, designers can even produce a whole gradient of warm whites, allowing them to concoct just the right shade of white needed to light up a wall, stage or even a video set. The Design Brick 70 and ELAR 180 RGBAW's camera-ready flicker-free operation makes both fixtures ideal for illuminating TV and video production, too.
Design Brick 70 – This compact, lightweight RGBAW LED brick fixture takes professional stage, floor, uplight and wall washing to new heights with amazing 210-watt brightness and unlimited color mixing possibilities. The unit's 70 LEDs are grouped in 7 cells of 10 LEDs each (2 LEDs of each color per cell). The fixture's Single Cell Control feature allows users to control each of the 7 cells independently from the others, for optimal creativity in designing colors, programs and effects. To meet different design needs, the Design Brick 70 offers 4 DMX control modes: HSIC, RGBWA, Pixel and Individual. The unit also includes built-in macro programs and effects, 0-100% dimming and an electronic strobe effect. It features a 25° beam angle, with optional 15° and 40° lens kits available (sold separately).
Designed for convenience, the Design Brick 70 includes a bright digital LCD menu display that makes it easy for users to scroll through its settings, as well as a versatile integrated bracket that can be used either as a floor stand or mounting yoke. The fixture also comes with a built in 100-240V AC built-in power supply, and 3 or 5-pin DMX in/out, as well as power IEC link in/out up to 4 units in a row. Easy to transport and install anywhere, the Design Brick 70 measures 24"L x 9.45"W x 17" high/ 610 x 240 x 440 mm, and weighs just 17.6 lbs./ 8 kgs.
The MSRP of the Design Brick 70 is $2,199.95. To learn more about this fixture, visit Elation's web site at www.elationlighting.com.
ELAR 180 RGBAW – This rugged, lightweight par can is ideal for use anywhere color (any color or white!) is needed, indoors or out. Its IP67 rating attests to its ability to withstand even the most violent weather conditions, making it perfect for landscape lighting and other outdoor architectural applications. The ELAR 180 RGBAW is also a great indoor or outdoor stage light, with its ability to create infinite colors and its cool-running LEDs, which keep performers more comfortable than conventional theatrical par cans. The unit also comes in a version with just warm white LEDs – ELAR 180 WW – featuring output comparable to a 1,000-Watt halogen par can.
DMX controllable, the ELAR 180 RGBAW features built-in macros, a color strobe effect, 0-100% electronic dimming and a 9° beam angle. It includes a built-in power supply 90-240v and can be power inked in/out up to 4 units in a row. It can be operated in 4 DMX modes — 5, 6, 8 or 10 channels – as well as in Standalone Mode with Master-Slave linkability. It measures 8.9"L x 10.5"W x 9.1"H/226 x 267 x 232mm and weighs 16.5 lbs./ 7.5 kgs.
The MSRP of the ELAR 180 RGBAW is $1,999.95. To learn more about the ELAR 180 RGBAW, visit Elation's web site at www.elationlighting.com.
Despite their extreme brightness, both the Design Brick 70 and ELAR 180 RGBAW are very energy-efficient, thanks to the low power draw of their LEDs. Both fixtures' LED lamps are rated at 100,000 hours, so they are low on maintenance requirements as well.
Share

Comments