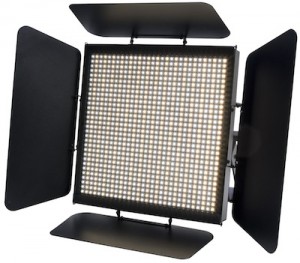 Back at LDI, I got a sneak peak at Elation's newest LED product for the TV and Film market, the TVL2000.  Don't let the name frighten you, TVL2000 sounds like some killer robot from the Simpsons or Futurama, but no, it's not, it's just LED!
Elation designed the TVL2000 to be the "ultimate LED broadcast light," the fixture is equipped with 450 cool white and 450 warm white LEDs that can be combined to adjust color temperature from 3200°K to 6500°K.  The unit provides a 30° beam angle standard and produces up to 98 foot candles @ a 10' throw.
Using either onboard controls or a standard DMX-512 controller, operators can blend the LEDs to create any shade of white, from cool natural daylight to soft warm tungsten – or anything in between.  The versatile TVL2000 makes it possible to instantly customize studio lighting to complement any skin tone or production environment with a soft, even white output.  The panel also features full 0-100% dimming capabilities, so users can fade in and out and control the intensity of the light.  A 4-way barn door system around the LED source allows light to be directed precisely to the desired area of illumination, and a magnetic gel/filter holder allows users to add frost or diffusion easily.
The TVL2000 features a dual yoke design, ideal for mounting on a stand, hanging in the lighting grid or floor positioning.  It has built in power supply from 100-240v with IEC power in/out link capability. Each unit draws just 76 watts of power at full.  The unit is also CE and cETLus approval pending. It measures 14.6" x 13" x 4.3"/ 371 x 328 x 110mm, and weighs 13.7 lbs./ 6.2 kgs.
Share

Comments