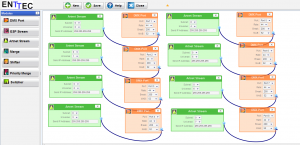 After more than two years in development, ENTTEC Pty Ltd has innovated its signature DMX networking tool, the Datagate, by adding a Web-based, user-friendly graphical interface, Gigabit-speed Jumbo Frames, Remote Device Management (RDM) on-demand, and more. The newly released Datagate Mk2 is the most powerful Ethernet-DMX node on the market!
A key upgrade to the original Datagate is that the configuration is all performed via Web browser. A utility no longer needs to be downloaded to a computer. Instead, users set their browsers to the Datagate Mk2's Web address, and there they will find a unique graphical interface that's as easy to use as dragging and dropping. The simplified display screen allows users to create a flow chart easily and then the Datagate Mk2 will perform what is drawn. This enhancement not only eliminates steps, but makes the whole process easier to understand and manage.
Features Found in the Datagate MK2
DMX Hub/Splitter
DMX Merger (HTP or LTP)
DMX -> Ethernet
Ethernet-> DMX
RDM Gateway
RDM Sensor Info Gather / Report
DMX shifting
Simple Scene Playback or Test Frame Generation
Hot Spare for another Datagate
For more information on the Datagate MK2 from Enttec, make sure to visit their website at www.enttec.com.
Share

Comments