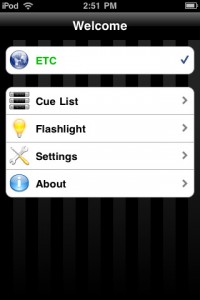 Check it out, ETC has a NEW iPhone/iPad/iPod Touch app, the iRFR Preview App!  The Preview iRFR application for the Eos family of products – Eos, Ion and Element – provides a view-only Cue List display of the active cue list. Ideal for lighting designers and stage managers who need to only see current and pending cues, this application works on the iPhone, iPad Touch and iPad products. On the iPad, this application makes it possible for designers to take notes on cues, copy those notes to a text file and email them as needed.
iRFR Preview Features:
iRFR Preview is playback monitoring only – there are no console control features in the software.
Follow the cue list – Preview will allow you to monitor the cue playback status live.  You will see the cue number, the label, and the time remaining as the cue counts down.  Follow the fade in real time.
See the current cue, as well as 3 pending cues and 3 completed cues.
Page up and down through the cue list.  Single button touch to return to Live cue on stage.
Navigate to any cue list using the [list][/][cue] syntax.
Store console connection profiles, just like in regular iRFR and with the same credentials.
On iPad, touch the cue and type notes.  These are aggregated in a separate viewing area, and can be copied to the clipboard for easy pasting in word processors or email.
What are you waiting for… if own or operate an ETC Eos family console, head over to the iTunes App Store on your iOS device and download a copy of the iRFR Preview app FOR FREE!  Also, you might want to check out the ETC WIKI page on how to setup an access point with your ETC console, as well as how to connect the iRFR app to the console.
Share

Comments