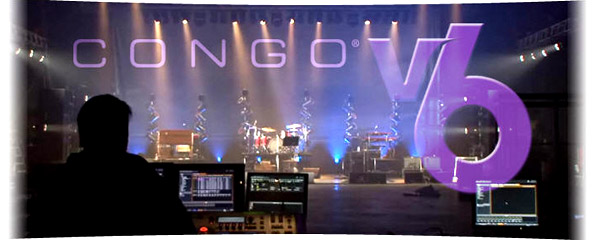 I swear that I have written about this before… oh wait I DID! If you did not notice, ETC un-released Congo V6.  ETC found just a couple of things that made version 6.0.2 not hold up to ETC's high standards. Have no fear, ETC has fixed the problem and has just re-released Congo V6.
Here is what Sarah Clausen, the Controls Product Manager has to say:
ETC is happy to announce the release of Congo v6.0.3 software for the Congo and Congo jr lighting control consoles, Congo Light Server and Net3 Remote Video Interface units. This version is mainly to resolve issues that many of you may have encountered in the field with previous v6 releases. It is highly recommended that any site currently running with v6.0.0-v6.0.2 software update to v6.0.3 as soon as possible. This version has been rigorously tested not only in our labs but in over 30 beta sites worldwide in varying configurations of stand-alone, server-backup and server-client systems. We believe this version addresses issues of "hourglassing" and system slowdowns, as well as the unhandled crashes that caused us to pull v6.0.2 from our Web site.

If you have experienced any of the problems above, we express our sincerest gratitude for your patience. We believe that v6.0.3 addresses these problems and that you can update your systems with confidence. As always, if you experience any problems with your system, please contact us either at Congo@etcconnect.com or by calling your local ETC dealer or our Technical Support departments in the USA, UK, Germany or Hong Kong.

Congo v6.0.3 software and release notes may be downloaded here. All consoles, Light Servers and RVI/Client PCs in a system must be updated at the same timer. There is also a v6.0.3 installer for Congo Offline Editor for Macintosh available for free download.
Share

Comments