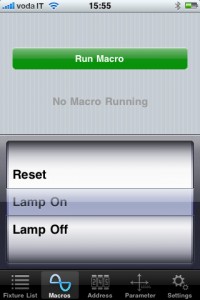 iOS app developer Bart van Stiphout has been a busy cat lately!  First he releases the FocusRemote app and now the Fixture Tester App.  The Fixture Tester iPhone OS is an application to test all the fixtures on the network in 4 steps:
1 Patch – Make a patch (or import a patch from ELC's dmXLAN) and select all the fixtures you need to test, one type of fixture at a time.
2 Macro – Run a macro (For instance Lamp Strike)
3 Address Test – Press start. All the selected fixtures will go to their home position, one by one. In this way you easily can detect faulty dmx addresses. The correct address and universe is displayed for the current fixture and there are buttons present for pausing and stopping the test, as well as next and previous (when Paused).
4 Parameter Test – All selected fixtures go to their home position. When the test is started, all parameters will be run one by one to their maximum and back. The speed is adjustable. There are options to skip, adjust and repeat a parameter. The window shows the current tested parameter and its value. Again there is the possibility to pause or stop the test. An option "limit" can be set in de library to limit the maximum value for a parameter (Martin uses a combined shutter / control channel and you don't want your fixture to reset while testing etc.).
Features:
Unlimited number of fixtures
Fixture Groups
Shake to deselect all fixtures
Warning if you are not connected to a WiFi network
Includes an extended fixture library
Available for iPhone, iPod Touch & iPad
With the FileUploader App, dmXLAN patchfiles and custom fixture libraries can be downloaded in the iPhone/iPod Touch/iPad
Testing is almost automatic
The Fixture Tester App is designed to work on both the iPhone/iPod Touch and the iPad natively.  You can pick up a copy of the app through the iTunes App Store for $24.99 USD.
Share

Comments