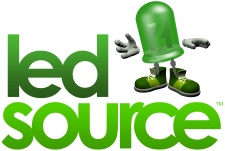 Marcel Fairbairn, founder and president of Gear-Source, Inc. and GearSource.com, a leading connection for production and concert equipment, has inked an exclusive sales and marketing agreement with Coemar, a prestigious Italian manufacturer of automated lighting and LED products. GearSource will serve Coemar's North American market utilizing its experienced automated lighting sales staff as well as its advanced web-based system, GearSource.com.
Additionally, Fairbairn's company LED Source, a national and international supplier of LED lighting, will exclusively distribute the Coemar LED range—including the ultra-popular ParLite LED and exciting new products to be shown at this year's conventions. With the help of company VP and partner Gavin Cooper, Fairbairn established LED Source in 2005 followed by a franchising program four years later. Currently, LED Source is North America's first and only franchisor in the world of LED lighting.
Read more about the this on "The Captin's Blog", Mr. Fairbanks blog.
Thanks @barbizon!
Share

Comments