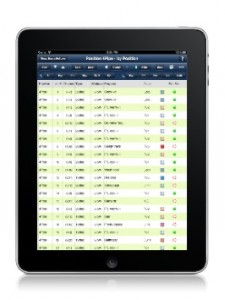 When you read that headline, did you get overly excited? I did too!  You may have heard this before, like around LDI that West Side Systems, an iOS developer, has been working with John McKernon, the developer of Lightwright, to create Lightwright Touch for the iPad!
This is where you get super jazzed up…
Lightwright Touch is a companion app to Lightwright 5, and enables viewing and editing of your Lightwright worksheet on a mobile device. With your lighting data literally at your fingertips, you'll glide through your paperwork using the Lightwright functions you know in the iPad interface you love.
How awesome right?  Well, why not give your favorite lighting design/tech the gift of Lightwright Touch this holiday season?  Bad news, Lightwright Touch will not be released in time…WAIT, don't leave yet!!!
As of right now, there is an introductory price of $49.99 USD if you pre-order right now, you pay $39.99.   That is a $10 USD savings over the price of the app when it hits the iTunes App Store. Lightwright Touch is expecting to hit the App store early 2011.  Might be January 1, might be January 31 or even later, no one knows but West Side Systems. I do have a hint though…. Keep an eye out for an update to Lightwright 5. The release of Lightwright Touch should follow that pretty quick.
If you are giving Lightwright Touch as a gift this holiday season, West Side Systems has a present that you can give your giftee, a hi-res, 8×10 screenshot of Lightwright Touch in action.  All you have to do is download it, print it and wrap it up.  You LD/techie will love it!
Learn more about Lightwright Touch for the iPad by visiting West Side Systems web site, www.westsidesystems.com.  To learn more about pre-ordering Lightwright Touch and saving some greens, visit www.pocketlighting.com.
Share

Comments