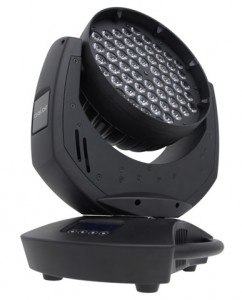 GLP or German Light Products has been steadily releasing new LED fixtures this year.  If the pace keeps up, they will have brought six new fixtures to the market by the end of the year.  This time around, GLP introduces their Volks|Light LED moving head. The Volks|Light uses 60 Luxeon Rebel high power LED's with a life expectancy of 50,000 lamp hours.
You will find 21 Blue, 21 Green and only 18 Red LEDs within the fixture with a 11 degree feild angle.  Their is a 24 degree angle that is optional. The Volks|Light operates in 8bit mode for color and timing while Pan and tilt operate in 16bit mode for course and fine control. Thus requiring 13 DMX address to operating including timing on the fixture, speed, shutter, dimmer and of course macro's on color. So yes, the Volks|Light operates of standard DMX protocol.  What is disappointing is that it uses a 3pin XLR connector rather then the industry standard 5pin.
Weighing in at just over 17lbs, the fixture is light weight and can be mounted in almost any position. As it is an LED fixture, the Volks|Light consumes 180 watts of power at full on and operates between 100v ~ 240v.  I could not find any specific information on output or pricing of the fixture.
For more information, visit GLP's web site at www.glp.de.
Share

Comments