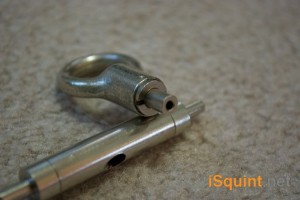 One of the neat things that I had a chance to play with at LDI had to be one of the simplest products on display, the rigging hardware from GripLock.  GripLock has been around for some time now but I have only recently been turned on to their products.
Think about this.  When rigging a hanging point, you would need to correctly measure and crimp your cable for you desired height.  There is some guess work and a whole bunch of math involved in that.
GripLock Systems has done away with the guess work. Rig your cable from the ceiling and run your cable down and then use there wide assortment of grippers to quickly and easily set you trim height with almost any type of connection you need.
Here's how it works:
Insert the cable into the plunger and slide the gripper to the desired position. Where it stops it locks®
To re-adjust, simply depress the plunger with your fingertip and move the gripper to a new position. Release the plunger to lock.
The 3- or 6-ball gripping mechanism is spring-loaded and allows the gripper to move freely up the cable. It cannot move down unless the plunger is depressed.
While there is any weight at all on the gripper, the plunger cannot be depressed. An optional "safety nut" or "safety cap" can be added to completely lock the mechanism in both directions. The Greater The Weight, The Stronger It Grips.
After stopping by the GripLock booth, walking around the show floor, I noticed that a number of exhibitors had been using the GripLock products to help demonstrate their own products.  Check out GripLock and their entire product line.  There is some neat stuff there!
Side note: While at the GripLock booth, they gave me a couple key chain samples.  I have two to give away.  The first two to email me at info@isquint.net wins.  Just put in the subject line, "I heart GripLock".
Share

Comments