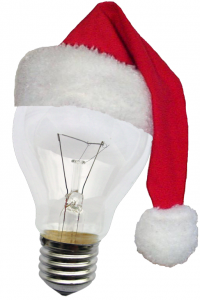 Ah the Holidays, they start back in July according to Lewis Black, then Christmas Half Time at Thanksgiving and then overtime between Christmas and New Years.  The whole holiday season is a huge rush and then just fly on by.
Did you have a good holiday?  As you can tell from my lack of writing and the most awesomeness present, the Dodocase for my iPad, I have had a great time! It isn't even New Year yet and things are already ramping back up for another action packed year of lighting goodness.  Look for an end-of-year recap of all the excitement and news within the industry. Don't forget, you can still nominate lighting products that you feel deserve the 2010 Best Lighting Product of the Year Award!
As for the Secret Santa Present Exchange… Have you figured WHO your Secret Santa is? I know a couple of people are behind getting their present out.  It's understandable, we are busy people!  Now, I have heard from one person, Dean Palmer Jr., about his present.  I'll let Dean tell you about it on his blog. What has everyone else received?  Dieing to know who your Secret Santa is? Check in below and let everyone know what you got and who you think your Secret Santa is.  We might have to wait till after the new year to announce who every one's Secret Santa is.
Only a couple more days left in 2010.  Make sure to end it with a bang!  Have a safe and bright New Year everyone!
Share

Comments