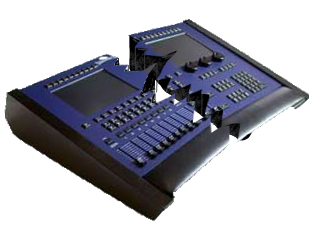 Late in the week, I got a note from a good friend and industry insider about the High End Wholehog 2 desk.  It looks like High End has stopped supporting repairs of the desk. Starting August 11, 2010, Barco / High End Systems has discontinue their repair service for the Wholehog 2 hardware.
The Hog2 has been one of the most sought after desk in the industry due to it's form factor, control capabilities and of course, the ease of programing and reliability.  It is a sad day to hear that repair support from the factory has stopped.  There are still a bunch of these desk out in the wild producing some pretty amazing lights.
There is a light at the end of the tunnel though.  If you still own and operate a Wholehog 2, check with your local Barco / High End dealer for repair services at the dealer level. Some dealers may still may offer some sort of support in repairing your desk. Albeit, that it may become difficult to find parts as many of them have been discontinued as well.
There is also one last glimmer of hope with your Hog2.  Barco / High End has extended their console trade in program through August 31, 2010.  Your Hog2 can proudly serve you one more time by going back home and saving you money on upgrading to a new Hog desk. For full details on the trade in program, contact your local Barco / High End dealer for details.
Share

Comments