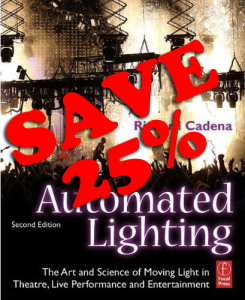 Yesterday, I released my review of Richard Cadena's latest book, Automated Lighting: The Art and Science of Moving Light in Theatre, Live Performance and Entertainment: 2nd Edition.  Right before USITT, Focal Press, the publisher of the book, announced the release of the book.  I am totally in love with the ladies at Focal Press.  They have been nothing but awesome to me.  Not only did they get me a copy of Mr. Cadena's book to do a review, but have also offered a discount on the book for iSquint readers!
Starting today, Focal Press is offering a HUGE savings of 25% off the cover price, ($49.94) of Mr. Cadena's book to you guys!  This offer is good through the end of May 2010 so hurry and get your discount code and order your copy today! With the discount code, you are saving $12.48 off the cover price. This is just another reason to pick up your very own copy!
It is very simple to get your discount on the book. Fill out the form below with your name, email address.  You can add a message if you like, I love notes! After you submit your info, I'll be sending you an email with your discount code and how to redeem it. Rest assured, any information you provide through iSquint is protected and never sold, distributed or given to ANYONE.
Please remember, this discount code only applies to Mr. Cadena's book, Automated Lighting, 2nd Edition. Thank Focal Press, you ladies are a class act! Keep up the great work and excellent books.
No more submissions accepted at this time.
Share

Comments