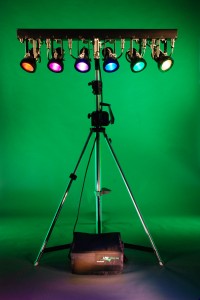 LED specialists i-Pix has developed a new 4 and 6 lamp Power Bar, to which it's versatile new BB1 LED fixtures can be fitted.
This is ideal for all types of portable applications from film & TV shoots and location work to small stages live concerts and performances, site-specific theatre, exhibitions and conferences, etc.
The BB1 is a sealed, low voltage, self-contained fixture, requiring only power and data, offering completely homogenised optics for the smoothest of output and available in either 20 or 35 degree beam angles. It's powerful customised RGB LED light engine has incredible colour mixing capabilities including the effortless sourcing of tungsten and daylight colour temperatures. The BB1 is fully RDM/DMX enabled, with remote address mode and detailed fixture feedback.
The Power Bar provides low voltage to the BB1 and is equipped with an onboard user interface. This allows each fixture to be individually addressed and the 'operating' mode to be adjusted. Both power and data are fed neatly through a combined data/LV power cable.
For more information on the i-Pix 4 & 6 Lamp Power Bar, visit the i-Pix website at www.i-pix.uk.com.
Share

Comments